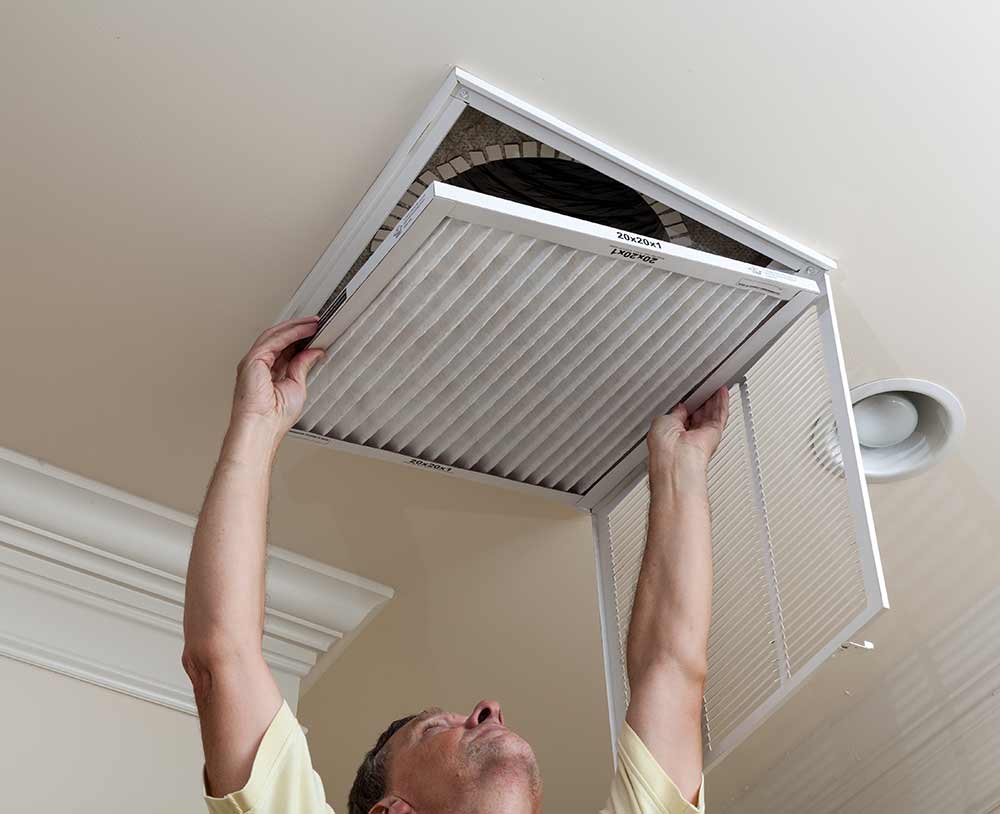 HVAC "Outta Sight, Outta Mind"
The last thing on anyone's mind is HVAC… Until it stops working!  For most folks, it is an "outta sight, outta mind" kind of situation.  We do live in Ohio and we know how crazy the weather can be. That crazy weather puts a lot of strain on your HVAC units and preventative maintenance is the best way to avoid an unpleasant surprise.   We want to provide some tips for things you can do on your own to keep your furnace and air conditioner running at its best.
During cold or hot months, keep the programmable thermostat set within 3 degrees of each setting.  

A furnace and air conditioner will have to run for a very long time to make up the temperature difference.  If you have an electric furnace

and heat pump, the electric furnace will come on as well to reach the set temperature.  Since an electric furnace runs at a higher cost, it counters the savings that you might have had with the lower initial temperature.

Keep the weed eater and lawnmower away from the control wiring of the air conditioner.  

The wiring should not be hanging down but if it is, be careful when mowing and weed eating.  It's not a high voltage wire but if it gets cut with a weed eater or mower, you can get shocked and it can take out the air conditioner.  If the wiring is loose or hanging down, tie it up with electrical tape or have a technician tie it back when they're out doing annual maintenance.

If you are experiencing high utility bills, call the gas or electric company first.  

Ask the utility company if there's been an increase in the therm or electric rate.  Ask if your bill compares to the average of others in your neighborhood.  You can get great information about what your utility bill should be running.  If there isn't a good reason for the higher bill, it might be time to have a technician out to make sure the system is operating properly.

Move furniture away from registers.

 It's not uncommon to see a couch over a register or a bookcase pushed up against a register.  Not only can the heat dry out your furniture but it also prevents the air from properly traveling throughout the rooms.

Keep registers open.  

A very common problem in two story homes is a temperature swing between the upstairs and downstairs.  Homeowners try to fix this problem by closing registers upstairs or in some rooms.  Keep the registers open.  Closing registers can restrict airflow and cause the furnace to run hot.  This can ultimately shorten the life of parts inside the furnace such as motors.  It can also make the air conditioner freeze up by reducing the volume of air that the system needs to expel throughout the house.  This is comparable to running the system with a dirty filter.

If you notice a noise, smell or problem, call on it right away.  

If you notice something unusual, don't ignore it.  It's rare that an HVAC issue will go away or resolve itself.  Noises and smells often mean that a part is getting weak or going out.  A little critter could also have gotten inside. Address these issues before your furnace or air conditioner goes completely out.  It's no fun being without heat on a cold day or without a/c when it's hot out!

Keep dogs away from the air conditioner.  

Animal urine will degrade the a/c fins.  There's not much that can be done to fix the fins once this happens so it's best to make sure the fur babies stay away.

Replace the batteries in the thermostat.

 

If the thermostat goes blank, check to see if there are batteries that need changed.  Not all thermostats have batteries, but if it does, it's likely AA or AAA batteries that need changed.

Pick up leaves that are around the air conditioner or heat pump.  

Leaves, cottonwood, branches, etc can gather around the air conditioner.  Keep these things cleaned away so the outdoor unit can breathe.

CHANGE THE FILTER!  

This is the number one thing to do to keep your furnace and air conditioner running efficiently!  A dirty filter causes restricted air flow and can ultimately cause the system to stop working.  If you have a 1″ filter, check it once a month.  If you have a 4-5″ filter, check it every 3 months.  It may not need to be changed at that time but it's good to check it to make sure.  It's also a good idea to keep extra filters at the house.  That way, you always have one on hand when it's time for it to be changed.