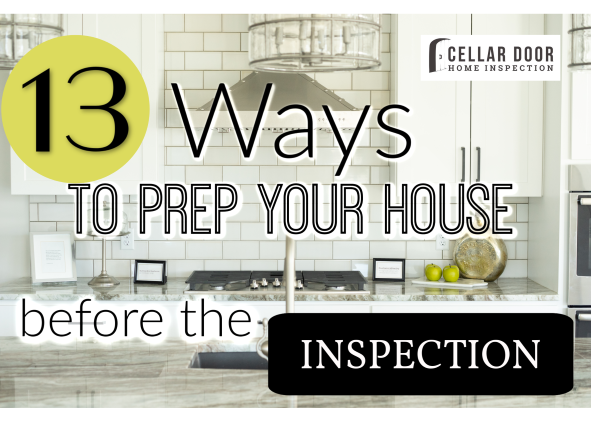 13 Ways to Prep Your House Before the Inspection
By Carolyn Lander Cellar Door Home Inspection
Spring has traditionally been one of the most popular times to put a house on the market (although as the housing bull market trend continues, listings don't seem to be following traditional seasonal trends – In 2019, January was the busiest month on the site in 20 of the largest 100 metropolitan markets) Listing your house takes a LOT of time and energy as you prep your house for showings and open houses. Once you get an offer, the next step is the home inspection. Because the inspection comes during the contingency phase in the agreement, it is in everyone's best interest to prepare your house correctly the first time to avoid the aggravation of subsequent inspections. Below is a list of things to consider when getting your house ready. And Congrats! You're almost there!!
Make Sure your Utilities are on
The home inspector will be  unable to perform a full inspection if the utilities are off. This will result in an additional inspection or will trigger a flag for an evaluation of a licensed professional (which will mean more time and more money)
Access to the attic, crawlspaces, electrical panels, closets, garages, gates/yard, water heaters, and HVAC will allow the inspector to do a thorough job and prevent having to schedule a re-inspection
If you are unable to take your pet with you, it is a good idea to keep them caged during an inspection. Even if your pet is a friendly one, they could possibly get out of the house during the many times the doors are opening and closing
Clear the perimeter


The inspector will be evaluating the exterior of the house including siding, the foundation, and caulking around windows and doors. You'll want to leave areas around your home clear of plant growth, trash cans, wood piles, and any other items
Check the roof


The roof is an important part of the home inspection, so make sure you make the time to prepare. Cleaning out the gutters, checking for damaged or missing tabs, and making sure downspouts are in their proper position will save you time in the long run by avoiding an additional roof consult.  If you do find damage on the roof, you'll want to get it taken care of prior to the home inspection
Replace any bulbs that are out


When the home inspector turns the switch and the light doesn't come on, the inspector will either have to waste time investigating if the electrical current is present or they will note that there is a possible defect which may trigger an electrical consult. Avoid both of these scenarios by going through your home and replacing any light bulbs that are not working
Turn all pilot lights on


If you are selling your home during the warmer months, make sure to double check that the pilot light – and the fireplace itself – is working prior to inspection

 
Ensure the breaker box is properly labeled 
A confusing breaker box is frustrating for homeowners and home inspectors alike. Double check that each switch in the box is labeled clearly and correctly, and replace any labels that are incorrect or difficult to read
Slow draining sinks and bathtubs happen but the home inspector will take note of it. Better to unclog drains ahead of time since the inspector won't know if it is an occasional or habitual problem
Leave Keys for Outbuildings and Electrical Boxes
If you have an unattached garage, shed, or any other outbuildings, leave the opener, keys, or padlock combination for the inspector on the kitchen table with a proper label                                                     
Anything on the property disclosure that's been repaired, treatment of WDI or documents regarding recent new big ticket items like a roof or a new furnace is helpful to have handy for the inspector to note on the report
Remove New Appliance Stickers
New appliances all have stickers and packing inside of them, which would prevent them from being turned on safely. If you have recently upgraded your dishwasher, microwave, oven, etc, remove anything on the inside so that they can be checked for functionality 
You've done all the prep work and now it's time to relax. Be ready 30 minutes before the inspector is set to arrive (they're known for being early) and prepare yourself and your family to vacate the house for 3- 4 hours during the inspection. Plan something fun or relaxing to do – selling a home is a full time job and you deserve to do something enjoyable!